I am coming to you from my new (well overdue) laptop/tablet hybrid weeeheeee, I love it so much, it's so fast, although anything would be faster than my old notebook hahaha. I love how you can switch between stuff and just touch the screen

instead of the mouse lol I've got the HP Envy x2 which has a keyboard and the screen detaches as a tablet, it's bigger than the ipad but it's not heavy ;).
Anyway enough about my new toy, lets talk about what cha came here fo'.
I got this polish in a set for Christmas, so they don't have names...annoying Techinc annoying. After my disappointment with Chanel Frenzy :( boohoo I was left with a taste for the greyed out lilac or a lilac tinged grey so I turned to the unnameable polish.
It's nice but a bit blah on its own needed jazzing (ew) up so I went with the old trusted Wahnails pen and knocked out some leopard tips.
These two are my favourite nails, they turned out the best.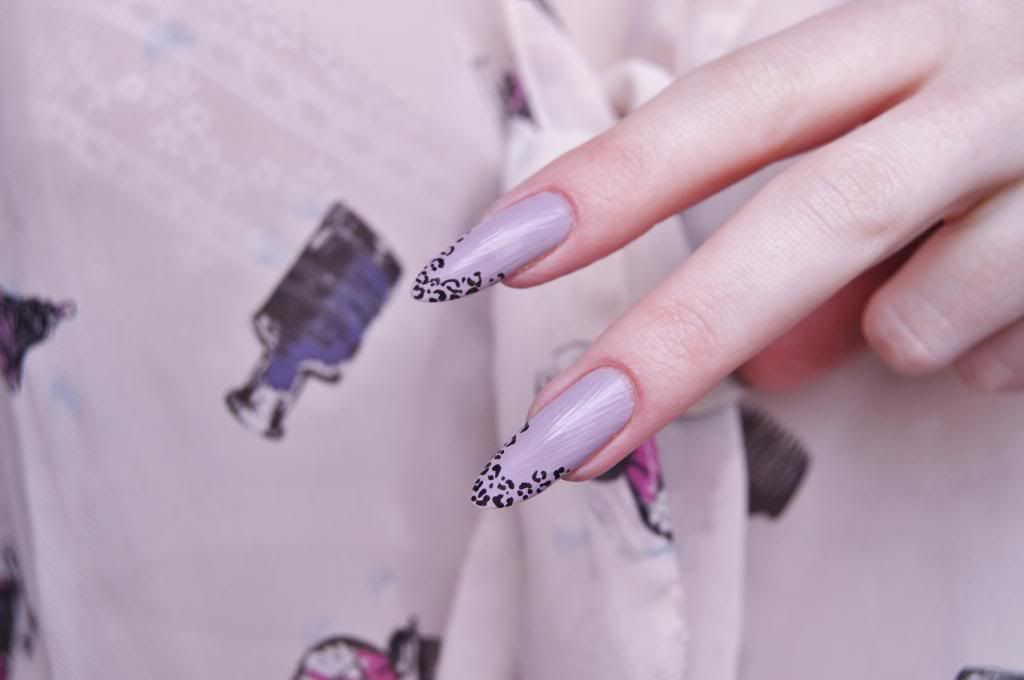 Here's the bottle in question.
Like I said these were just something that I did really quickly one day last week, just a bit of fun, simple but effective ;).
This week I ordered from Diy Nails, which for those of you who don't know of the company, they are a british online company that sells studs, bows and hand painted false nails so they are an independent shop, with affordable prices. They posted a picture of what they called

Lucky Dip

s which are made up of bits of nail art goodies that they have left over and now are sellingfor£2.50 a bag! I had to get one of course; too much of a good offer to turn down!
My bag arrived yesterday and here's what I got:
My favourites are definitely the roses, Louis Vuitton stickers and the 4 glittery bows, oh and the adorable kitty fimo :D. Worth £2.50 I think so! I can't wait to use those roses, gah I love them!!
(The background is a cute notebook I got from Paperchase recently....my other weakness is notebooks! Paha)
Hope you all have a good weekend, I'm up at the crack of dawn tomorrow for our carboot sale!