I've been super busy with uni work (what's new?) so not a lot of time for nails as usual :( although I did manage to swatch Gosh Holographic Hero but the pictures don't do it any justice so I didn't post it, I might post it later if I can.
I painted my nails white as I think they can look really chic as long as it's a good

application, I was watching QVC this morning like you do and Nails Inc was on and the lady said something like ugh nobody wants white nails, they're so 80s! Lol! Not to me ;). I mattified one hand to originally show you but I ended up mattifying all my nails :)
I new I wanted to add some nail art and that it was going to be neon as the white base was screaming for it ;) this was my first time doing roses since Feb 2012!! LOL I was obviously scarred by my only attempt. I never could get my head around how to do roses for some reason....but I do now :)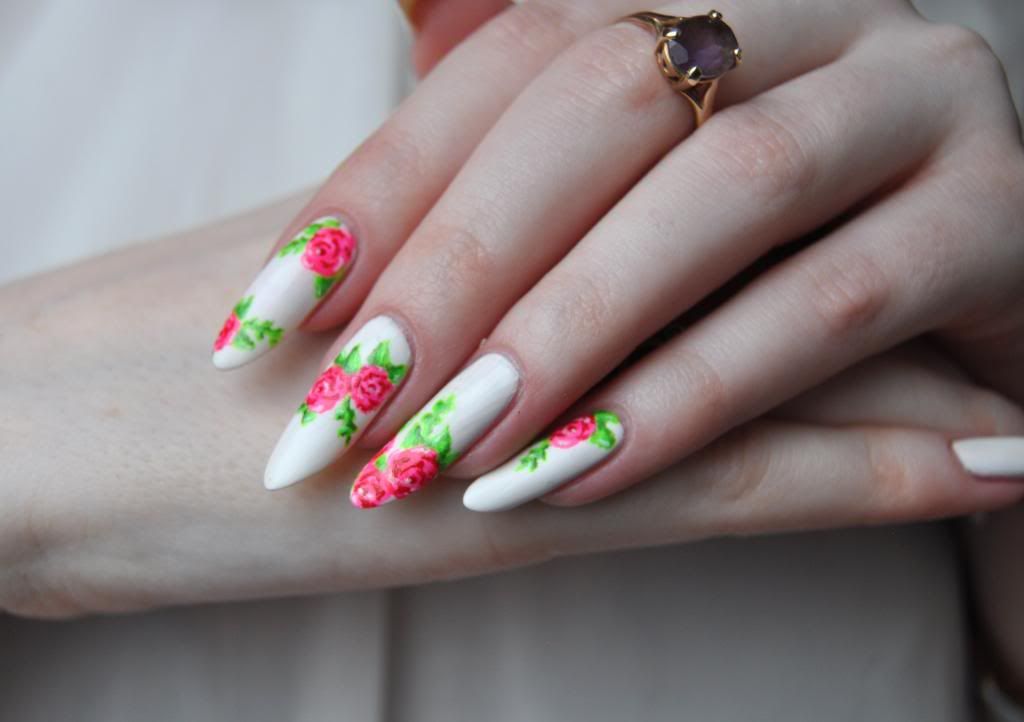 I wanted to hold a typically british biscuit like a custard cream but we had eaten them all so I settled for a breakfast biscuit :P. Biscuits were needed for 2 reasons; 1. they're yuuuummy and 2. I thought my nails look like a floral teacup....yeah.

I just mixed I'm With the Lifeguard with a black polish to make the darker green and the neon pink is SpaRitual Dreamsicle. I didn't add a topcoat as I liked how everything is matte :)
It must be a while since I have done real nail art as I tried to do my right hand and even with such a simple design I failed D: first time in a long time I've only got one hand done! tutututut need to get back into doing more nail art...any requests??