Hi! The title of this post is by request of my mother lol! So I wanted some glitter in my life as it has been a while...Barry M is my go to glitter producing brand, just because they are cheap and produce glitter that is full coverage! The unimaginatively named Blue Glitter is exactly that a nice sparkly medium blue glittah. Which sparkles like the sea...hence the nail art ;) good eh?
These nails came about as I was in my room and saw Stance from Illamasqua sitting there and I thought hmmm that might look nice against this blue as scales?? So I went with it and just carried on from there :P I was influenced by this gorgeous Australian opal bracelet that my dad got me for my birthday last year, I love the colours that it changes between, so pretty :). I couldn't just leave it with only polish so I grabbed my pearls and nail charms and chain! And went for it ;)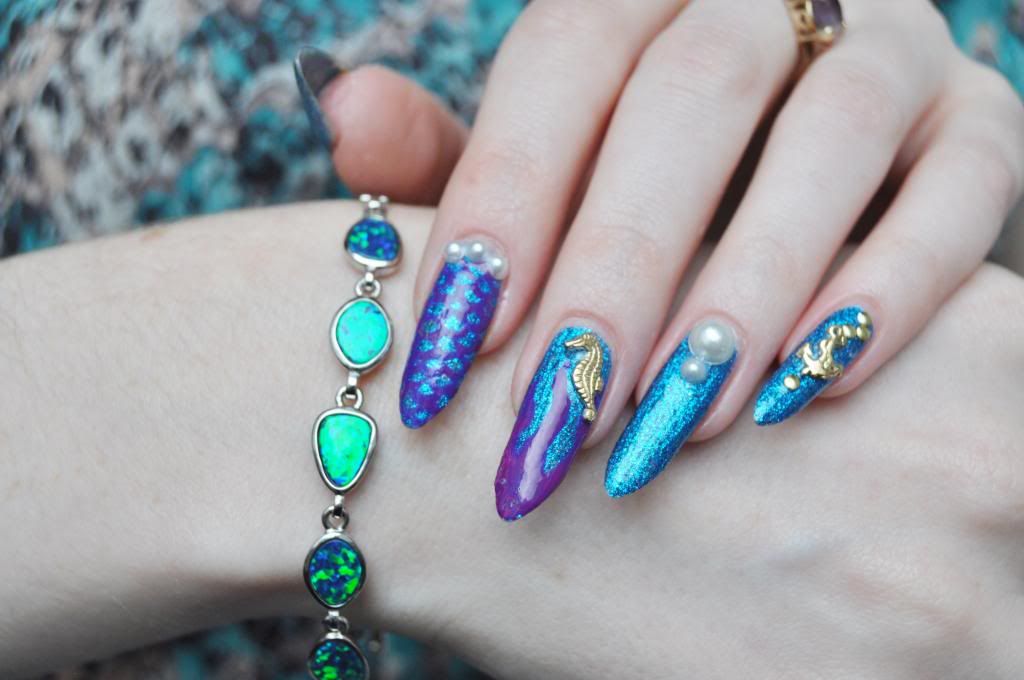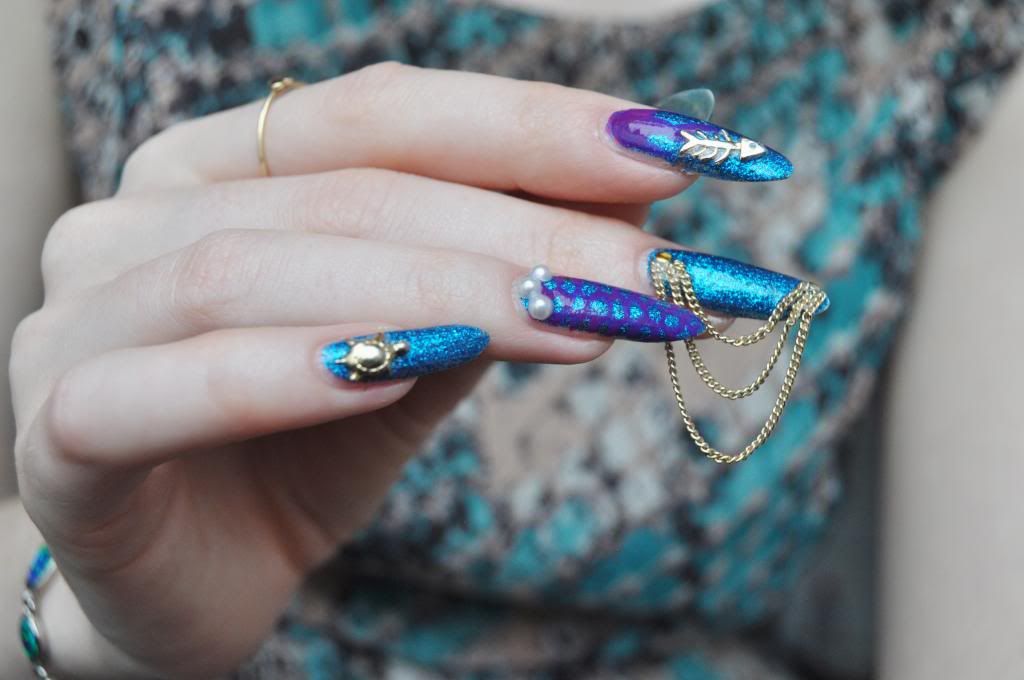 Yes, the chains are back with a vengeance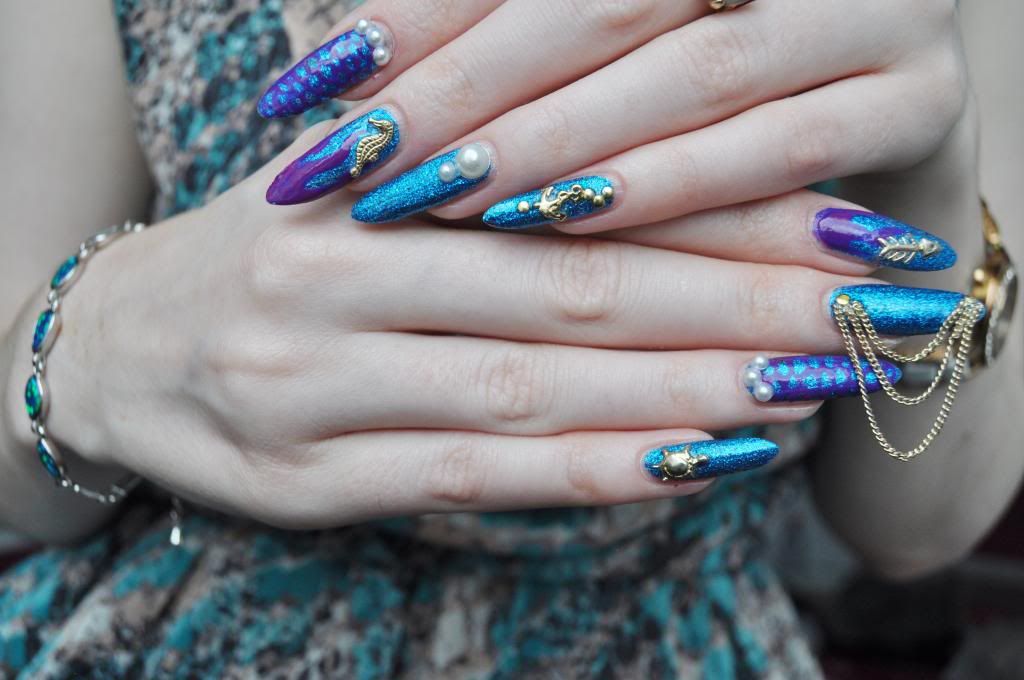 Yeah, I like these nails a lot ;) back on my crazy nail game, it's the only way I mean who wants boring nails! Nails should be fun (although I get it if your work makes you dull them down :( booo for boring work!). I haven't done my thumbs as they're kind of weird at the moment, I haven't filed them in a few days and so they are growing wonky lol so I need to sort them out before I do them :P.
Everyone's first question with these nails has been...don't they get caught on things?? So I thought I'd show you the only thing they have yet been caught on....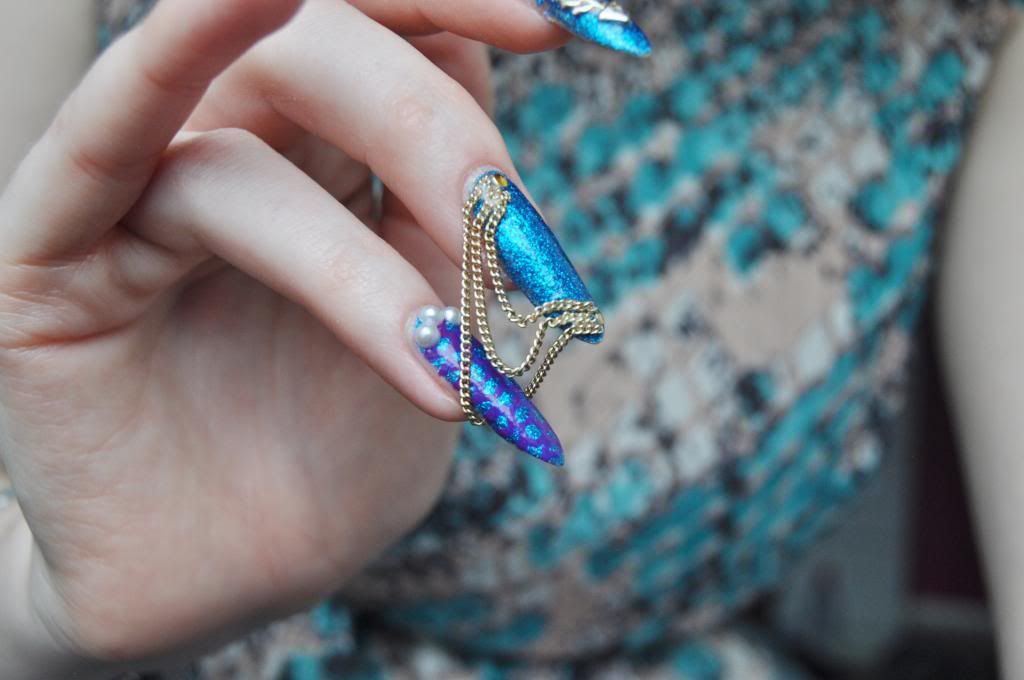 Baha! This has happened a few times but other than that the chains are fine, they aren't rusting which is what I was worried about :P
It was funny today, we had to go check on my mum's friends tortoise as she is on holiday and it lives in the garden...it likes to chase feet and then bite your toes! It was so cute! But I thought that I've actually got an appropriate prop for a change :P so I took a quick picture heheh
Tiny enjoying my nail art ;)
:D hope you enjoyed!