Hey! I've been looking at some lovely snowflake nailart so I have done some ;). I wanted white over a dark colour, I chose my oldest nail polish: Barry M Vivid Purple. I've said this before but it's the purple twin of Barry M Navy and y'all know how much I luuurve Navy ;). Vivid purple is a gorgeous shimmery silky cadbury purple vampy, that despite its age it's still applies perfectly!
I added my new favourite Barry M Silver Diamonds over the top, only a thin coat though....ugh it's just so nice!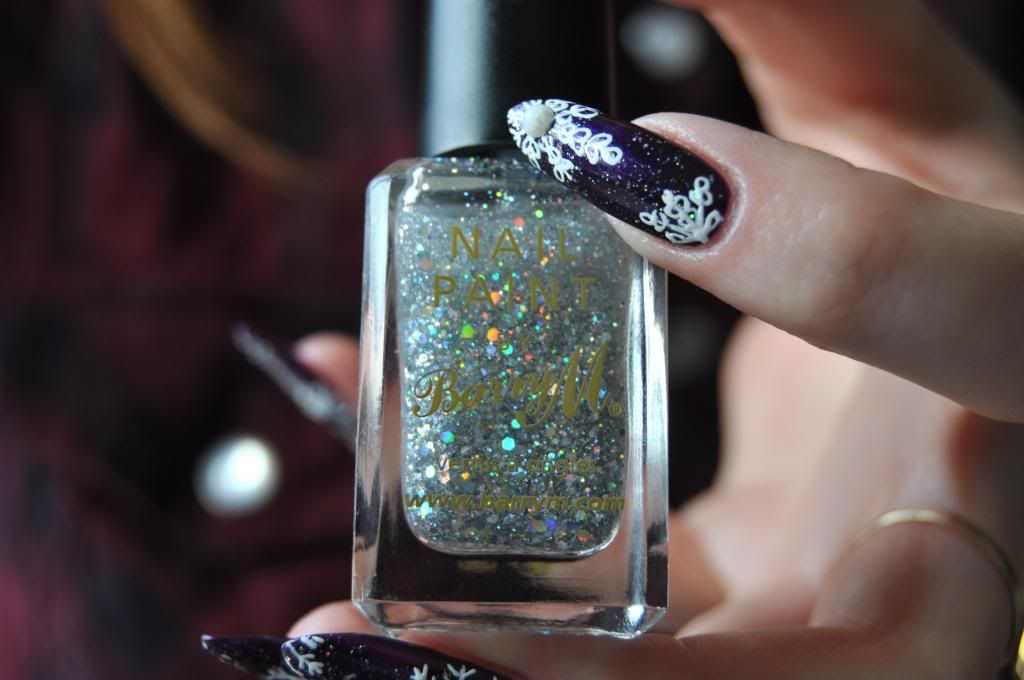 Soooo pretty! After the glitter was dried I took out my ol' wah nail art pen in white and drew the snowflakes on, I tried using the striper but it's pretty awful for small work so I just pen'd it ;).
Then I added pearls and my new multicoloured black studs (which have turned totally black as I didn't put a topcoat on so I guess the colours have rubbed off :() to finish off the look. I love the pearls they make it feel super christmassy! I tried to think of different snowflakes for each nail, to give a bit of variety ;). They were all easy to do, just a cross with two diagonal lines for the base then add smaller lines to make the shapes :) or circles in the case of my index and middle fingernails.
My next post should be about nail art embellishments and where to buy them as I know that it can be quite frustrating to find them if you don't know where to look or what to search for!