Hi, I'm back haha forever now :)
Whilst I'm waiting for my Flossgloss order to arrive (c'mon c'mooooooooon) I continued my neon phase with Turned up Turquoise, I wasn't sure initially whether it was a neon or not as it didn't say it was but it looked pretty bright so I googled it ;) turns out it is but I couldn't be bothered to put white on so I just went straight into the turquoise goodness.
If you follow me on instagram you'd have seen that I got my order from Hex nail jewelry a couple of weeks ago, they make super cute, re-useable, gold plated nail charms for $1.75 each which is good value seeing as you can keep reusing them until the gold wears off. I'll be placing another order with them again soon! You'll be seeing more charms in the next couple of posts :). I added their large bow charms to my middle fingers.
I had to colour adjust the photos as the colour was hard to capture, it's a lot brighter and more blue then these photos show, but the lovely velvety texture and glow is the same. I used four coats but only to fill my ridges but it didn't work :P.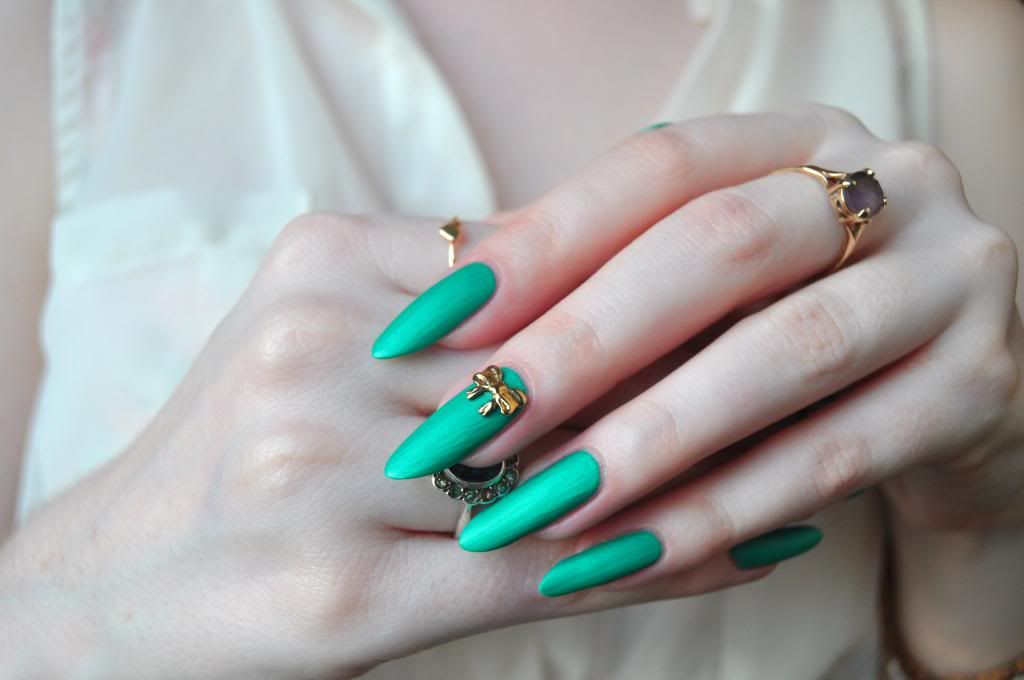 Gorgeous colour, right? Love the charms too, so cute and sturdy lol!
I'm getting back into reading other people's blogs slowly but surely! I'm looking for new beauty blogs esp. British and nail art blogs to follow so if you know of any hit me up :)
Seeyou in a couple :)