Hi, so it was my birthday this time last week, I'm 21 now :O
It was hard to decide what to do on my nails, glitter? Cake? etc so I narrowed it down to my two favourite colours at the moment (Nails Inc Baker Street and Illamasqua Stance) and then I thought I'd bring out the stars, unicorn charm, gems and of course 21! I went for an old English font for the numbers as I think it looks cooool and tones down the girlyness of the other nails :P. I've just realised that last year I used illamasqua (see last years nails here - soooo short :O)
I've got to apologise for the photos though as a few are blurred and yes...I resorted to doing the claw!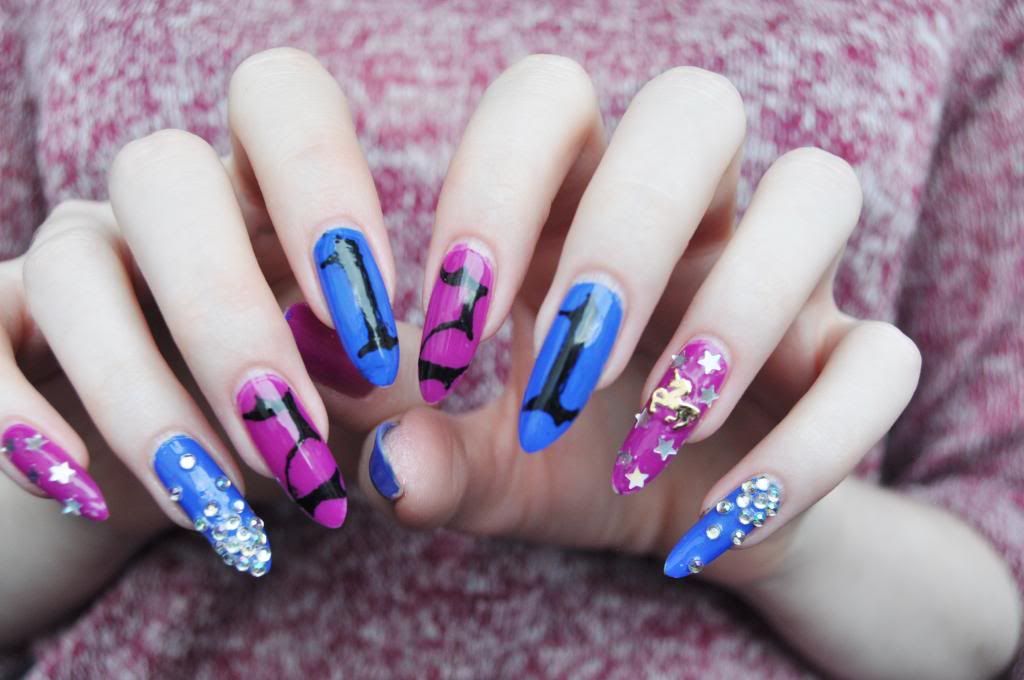 I did my right hand in low light so I thought it looked ok until I took this photo hahaha
I have to say sorry for how messy they are! They looked ok in real life ;P

I got this bag as a present and noticed that my nails totally matched it! Ha (again sorry that the nails are out of focus...I swear I am a photography student :P)
I think the stars look ok, I had been trying to think of a good use for them up to now!
I know I have posted in a while, in fact my birthday was two weeks ago today! I've been all over the place as it's nearly time to go back to uni so I've been doing all those important things like sorting accommodation, student finance buying new stuff etc. And I went to Ipswich for the weekend after my birthday and had a really good time which just makes me want to go back to uni even more, I'm going a bit stir crazy being at home...and I think my nails are suffering, I feel like I've got nothing to inspire me at the moment which sucks but in good news I have just written two more posts up :O so I do have something to show you soon :p.
I really need to start reading and commenting on others' blogs more frequently!
Hope everyone's been well! See ya soon :)